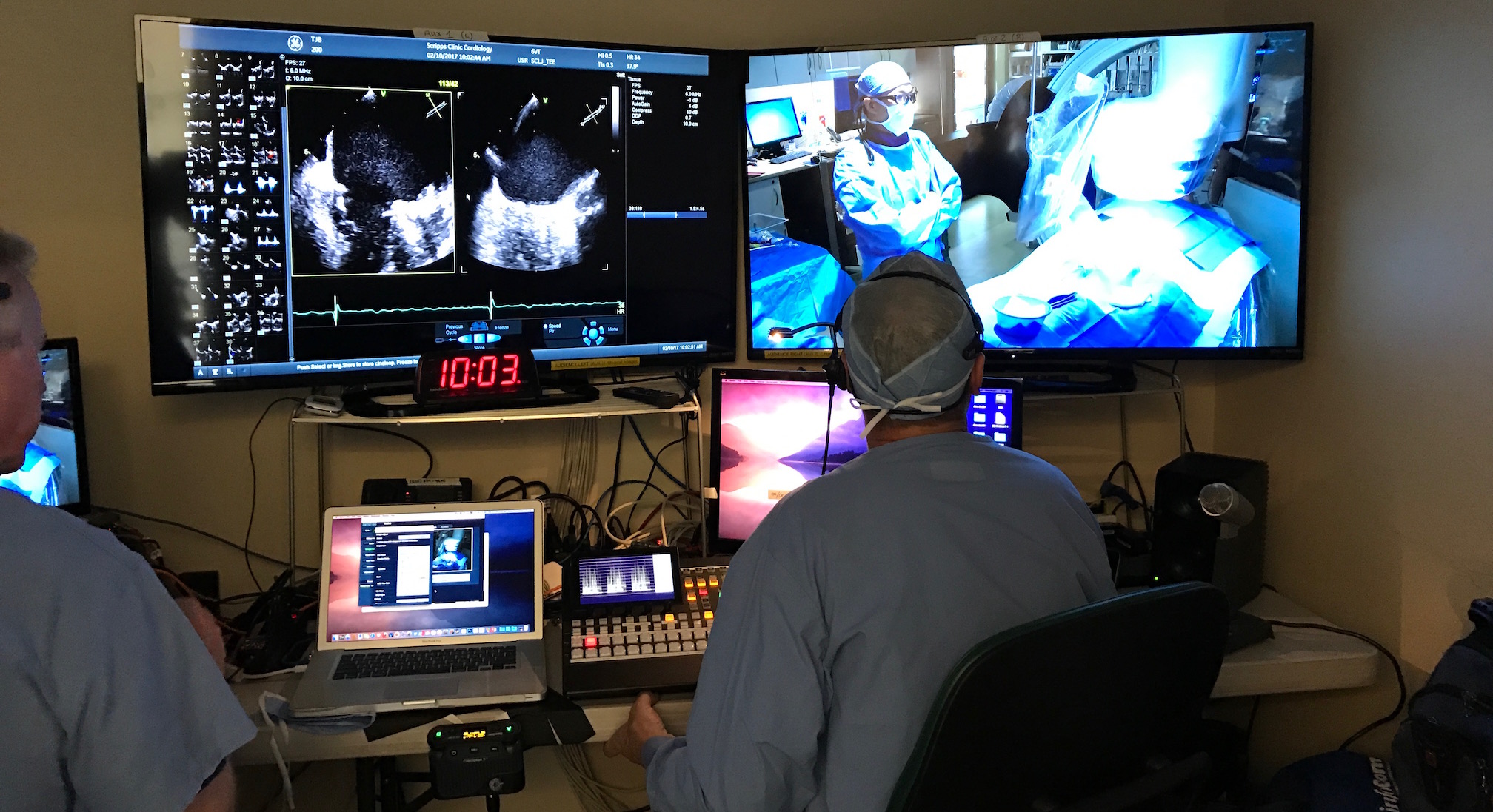 Event Wave designed and deployed a comprehensive communications system for the 6th Annual Structural Heart Intervention and Imaging Course, produced by H&H System Integration. Doctors from around the world gathered at the Marriott La Jolla in San Diego to watch and virtually collaborate on interventional cardiology procedures broadcast live from hospitals in San Diego and Leeds, England. Our technologies connected doctors, directors, camera operators, audio engineers, and other key personnel across multiple countries and time zones, enabling a fast-moving, flawless series of live medical procedures, performed before an audience of leading doctors.
During the procedures, a panel of medical specialists in the hotel ballroom were able to offer real-time comments and suggestions to the interventional cardiologist at the hospital, via a high quality audio network. Two-way communication between the physician and the panel was achieved via mix-minus audio feeds over fiber and IP, with crystal-clear, echo-free audio delivered thanks to Dugan Automixing and skilled audio engineers at both locations. Physicians wore comfortable, high fidelity DPA 4066 headworn microphones with pristine ULX-D digital wireless transmission, allowing them freedom to move about the procedure room with consistent intelligibility.
Onsite in the Cath labs and adjacent control rooms, a FreeSpeak II wireless intercom provided ample coverage and high fidelity audio. Intelligibility and wireless range were exceptional, despite layers of lead walls around the operating rooms, thanks to FreeSpeak's 1.9 GHz transmission. Multiple keys on the wireless beltpacks allowed the producer to easily speak to the local crew, the remote crew, or even directly to doctors.
"Having done medical broadcasts for over 20 years, we have tried various methods of communication over the years in order to improve the clarity and responsiveness of crew-to-crew comm. Nothing worked as well as the system Event Wave set up for us at this last broadcast. With one wireless beltpack I could, with a push of a button communicate to my local crew, to the receive-site crew and also directly to the physicians on our own private and secure channel. It was amazing."
Steven Hesselbach, H&H System Integration, Inc.
At the hotel, Clear-Com HelixNet Digital Network Intercom provided a high quality local communications system. This system was seamlessly connected to the hospital in San Diego over IP via Clear-Com LQ interfaces. This connection provided real-time, high fidelity two-way communication over multiple channels between the two sites. For communication with and program return to the hospital in Leeds, a pair of Telos 100 Delta telephone hybrids handled all connections.